Chartrand Associates is proud to announce our partnership with Vivotek. When you need video surveillance to protect your growing business, choose Vivotek.
VIVOTEK Inc. was founded in February 2000. The Company markets VIVOTEK solutions worldwide, and has become a leading brand in global security surveillance. To fulfill its global strategic footprint, VIVOTEK is committed to building an ecosystem for the IP surveillance industry, and looks forward to long term collaboration and growth with all partners in our shared pursuit of a safe and secure society.
Today we are featuring Vivotek NVR Solution Kit
8212 https://www.vivotek.com/website/nd8212w-solution-kit/#views:view=jplist-grid-view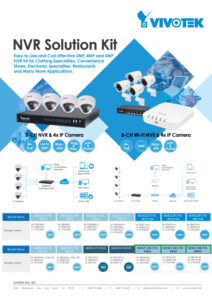 Visit the Vivotek website to get familiar with the products or call us for a demo.